Winners Emerge for "Science Media Award"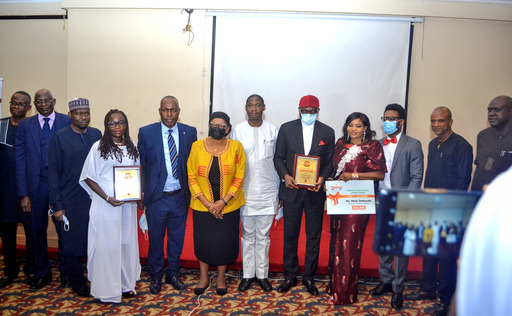 After rigorous screening and evaluation, winners emerged for the 2020 Science Media Award.
The winners, and runners-up in Print and Broadcast Categories are:
Babatunde Ajaja (Punch Newspaper) – Winner, Print Category
Olufunke Fayemi (Voice of Nigeria) – Winner, Broadcast Category
Fisayo Soyombo (Online platform) – Runner-up, Print Category
Nkoli Omhoudu (African Independent Television) – Runner-up, Broadcast Category
The award prizes were presented to the winners and runners-up during the Annual Appreciation Dinner for Science Journalists that held on June 18th 2021 at the Sheraton Hotel & Towers, Ikeja.
The presentation of awards was preceded by a keynote address delivered by the Editor-in-Chief of the Guardian Newspaper, Mr. Martins Oloja. The address titled "Evidence-based Science Communication in the COVID-19 Era", posited that science communication needed to be truthful and evidence-based to be credible and also to gain the general public's trust. Oloja enjoined journalists to do proper investigation of their stories before publishing to avoid spreading falsehoods and misinformation amongst the general public.
The NAS Media Award, held annually since 2011 -except last year due to the Coronavirus pandemic, seeks to promote excellence in science-related journalism. The NAS had been in collaboration with Vitafoam Nigeria Plc for the past three edition to increase awareness of benefits derivable from science which is expected to result in increased support for development and application of science in the society.