NAS Holds Collaborative Meeting with Science Associations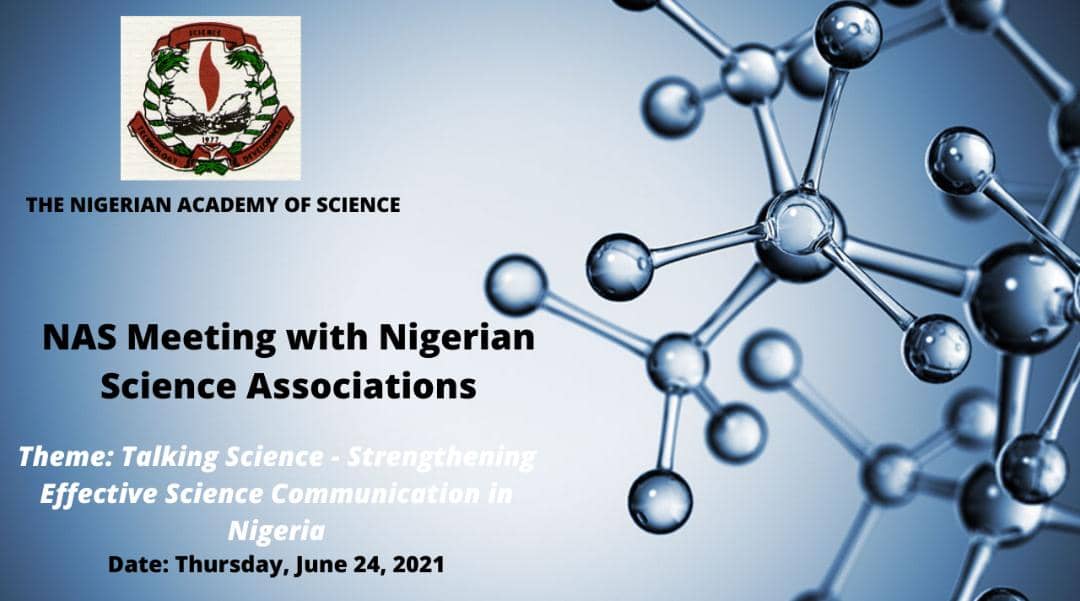 As Nigeria's national representative with the International Science Council (ISC) -the global body for all science associations and unions, the NAS is mindful of its mentoring role for science associations in Nigeria. In view of this responsibility, the NAS brought together representatives from various Nigerian science associations and Science communication experts to discuss strategies to improve science communication in the country.
The meeting, which held virtually on June 24th 2021 and themed "Talking Science: Strengthening Effective Science Communication in Nigeria", was to highlight the peculiarities of science communication in the Nigerian context and the roles for the Nigerian science community.
There was a consensus among participants that lack of effective science communication had led to a high level of misconception about science, and scientific facts, resulting in general public's distrust -and consequently, contributing to the slow development of science in the country. It was observed that this communication challenge had been especially highlighted by the COVID-19 pandemic where misinformation led to poor compliance with directives from authorities and had now resulted in vaccine hesitancy.
NAS President, Professor Ekanem Braide FAS in her opening remarks emphasized collaboration among all stakeholders as the key to solving national problems, influencing national policies, and promoting good governance. She discussed the need to strengthen science education at primary and secondary school levels.
Academy's Past President, and Chancellor, Lead City University, Professor Gabriel Ogunmola FAS who chaired and moderated the meeting introduced the speakers and gave closing remarks.
A Science communication expert at the meeting, Mr. Akin Jimoh, the Chief Editor of Nature Africa, advised that for the science community to arrest the trend, the two parties -scientists and journalists, involved in science communication needed training. Training for the journalists to help them understand how scientific knowledge is produced; and for the scientists to help them become more aware of the possibilities and limitations of different media for communicating with different audiences. Another expert, Dr. Mahmoud Maina, Founding Director of Science Communication Hub Nigeria said scientists had the responsibility to bridge the science-policy-society gap through communication; while Mr. Adejuwon Soyinka, the Regional Editor West Africa of The Conversation Africa, observed that if scientists did not rise up to the occasion, the effects and dangers of fake news and misinformation could complicate government's efforts to respond in emergency situations. The meeting proffered some recommendations on how the Nigerian scientific community could strengthen public understanding and engagement with science.