Professor Cornelus Adedapo Kogbe FAS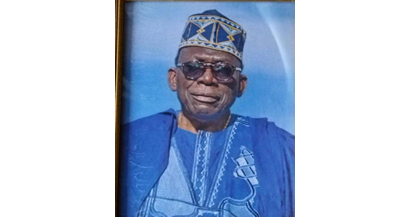 The Academy announces the passing on of Professor Cornelius Adedapo Kogbe FAS at the age of 81. The sad event took place on the 22nd of August, 2021 in Malakoff (Greater Paris), France.
Professor Kogbe was born in Jos (the current capital city of Plateau State).
Professor Cornelus Adedapo Kogbe was born in Jos (the current capital city of Plateau State) on May 24, 1940, and married Oyebukunola Oworu on September 6, 1969, in Ibadan.
He graduated from the University of Ibadan with a B.Sc. (Honours) degree in Geology in 1965. He went on to obtain a doctorate in Natural Sciences from the Université de Lyon with distinction in 1968, and a Diplôme d'Ingénieur from the Ecole Nationale Supérieure de Pétrole et des Moteurs, Institut Français du Pétrole in Rueil-Malmaison (France) in 1969.
He had an illustrious academic and professional career in Nigeria and abroad. He left Elf
(now Total E&P) in 1969 to start his academic career as a Lecturer at the University of Ife. He wrote and edited the landmark book on The Geology of Nigeria in 1976.  He became a Professor and Head of the Department of Geology in 1976, and the Dean of the Faculty of Science, in 1980, at Ahmadu Bello University, Zaria. He coordinated the team that implemented the geoscience investigation and mapping of the Federal Capital Territory (Phase 1) of Nigeria in 1978. He was elected as the Vice President of the International Union of Geological Sciences (IUGS) in 1980 and held the position until 1989. He was appointed as the Director General of the International Center for Geological Training and Exchanges (CIFEG) in Paris and President of the Geological Society of Africa in 1982. He was elected as a Fellow of the Nigerian Academy of Science in 1983. From 1985, he ran Rockview International SARL from his base in Paris. Rockview published the globally reputable academic journal, Africa Geoscience Review, and consulted to clients such as the European Union, the African Development Bank and UNESCO.
He passed on to be with the Lord in Malakoff (Greater Paris), France, on Sunday, August 22nd, 2021.
He is survived by his wife, Dr Oyebukunola, Iyabo Kogbe, his children; Olugbenga, Temitope and Olufunmilayo Kogbe, his sister, Prof Deborah Enilo Ajakaiye; his daughters in law, Nkechinyere and Oluwabukola Kogbe; and grandchildren, Ifeoluwakiitan Opeolu, Kofoworola, and Obakorede Kogbe.