Webinar on Nigeria and the Next Pandemic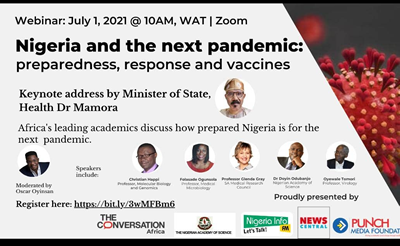 The Conversation Africa, in partnership with the Nigerian Academy of Science (NAS), brought together leading academics to discuss how prepared Nigeria is for the next pandemic. The Conversation Africa science-policy virtual dialogue themed, 'Nigeria and the next pandemic: preparedness, response and vaccines' was held on the 1st of July, 2021 with Senator (Dr.) Adeleke Mamora, Minister of State for Health as the keynote speaker.
The other panelists, all from the Nigerian Academy of Science, were Professor Oyewale Tomori FAS, Past President of The Nigerian Academy of Science; Professor Folasade Ogunsola FAS, Professor of Medical Microbiology; and Dr. Oladoyin Odubanjo, Executive Secretary of the Academy.
The meeting brought together scientists and policy makers to take stock of Nigeria's handling of the COVID-19 pandemic to date, reflect on lessons learnt, and assess Nigeria's preparedness for future pandemics. The event was hosted in conjunction with three media partners: Punch Newspapers, News Central TV station, and Wazobia FM.