WEBINAR 3– COVID-19 VACCINES: CONCERNS, CHALLENGES, AND NIGERIA'S PLAN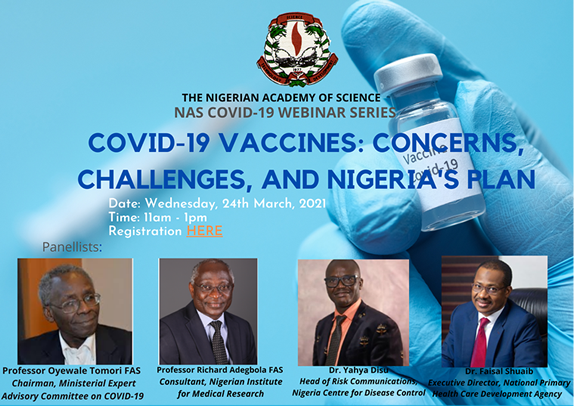 NAS COVID-19 WEBINAR SERIES
WEBINAR 3– COVID-19 VACCINES: CONCERNS, CHALLENGES, AND NIGERIA'S PLAN
The NAS will be holding the third webinar in its COVID-19 series, themed COVID-19 Vaccines: Concerns, Challenges, and Nigeria's Plan.
The aim of the webinar is to discuss the principles of vaccination, public perceptions of COVID-19 vaccines, factors contributing to vaccine hesitancy, and how Nigeria can be better positioned for effective implementation of a COVID-19 vaccine deployment plan.
The event will hold as follows:
Date: Wednesday 24th March, 2021
Time: 11.00am-1pm
To participate, kindly register HERE
Speaking at the Webinar will be:
Professor Richard Adegbola FAS – Consultant, Nigerian Institute for Medical Research (NIMR)
Dr. Yahya Disu – Head of Risk Communications, Nigeria Centre for Disease Control (NCDC)
Professor Oyewale Tomori FAS – Chairman, Ministerial Expert Advisory Committee on COVID-19 Health Sector Response (MEACoC-HSR).
Dr. Faisal Shuaib – Executive Director, National Primary Health Care Development Agency (NPHCDA)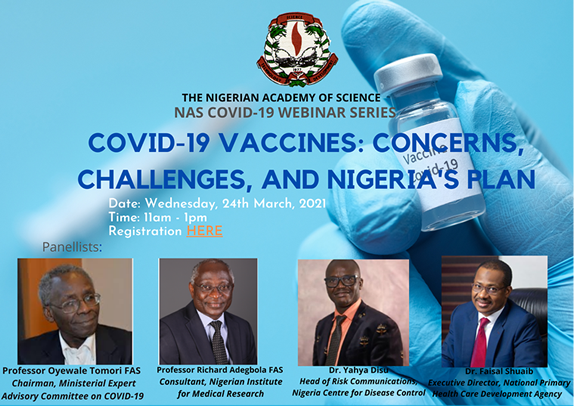 For more information, please contact the NAS Secretariat using bonyema@nas.org.ng or 0808-962-2442.