AGM 2017- Scientists elected into NAS Fellowship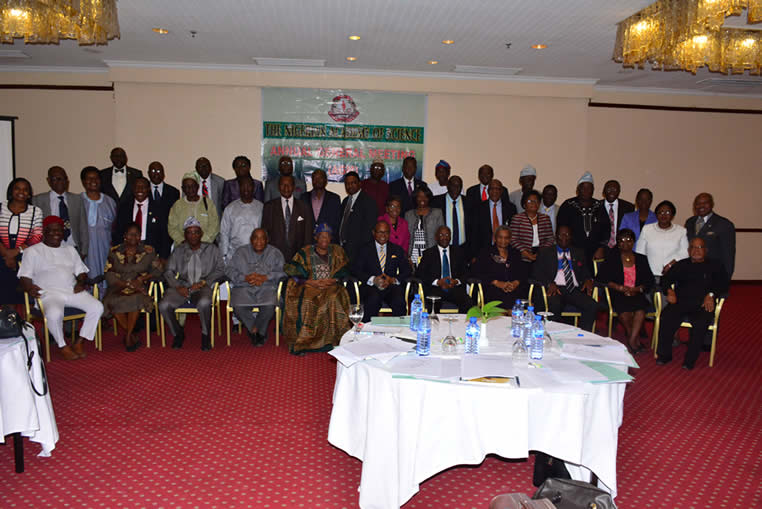 The Nigerian Academy of Science at its Annual General Meeting held in Lagos on Thursday, 26th of January, 2017 has elected nine distinguished scientists as Fellows of the Academy. They are:-
1. Professor Emiola Oluwabunmi Olopade-Olaopa
2. Professor Oluwatoyin Temitayo Ogundipe
3. Professor Joseph Abiodun Balogun
4. Professor Folasade Tolulope Ogunsola
5. Professor Effiom Edem Antia
6. Professor Charles Okechukwu Esimone
7. Professor Karniyus Shingu Gamaniel
8. Professor Mufutau Babs Oyeneyin
9. Professor Martins Olusola Olorunfemi.
The scientists who were electronically elected will be inducted as Fellows at a ceremony in May, 2017 to be held in Abuja.
Also at the AGM, the Academy's 41st Council was reconstituted. They are:-
1. Professor Mosto Onuoha – President
2. Professor Ekanem Ikpi Braide – Vice President
3. Professor Temitayo Shokunbi – Treasurer
4. Professor Soga Sofola – Foreign Sec.
5. Professor Akinyinka Omigbodun – Chair, Publications Committee
6. Professor Olusegun Ekundayo – Academic Sec., Physical Sciences
7. Professor Adeyinka Afolayan – Academic Sec. Biological Sciences
8. Professor Sunday Atawodi – Public Affairs Sec.
9. Professor Olaitan Soyannwo – Representative, Biological Sciences
10. Professor Akintoye Coker – "
11. Professor Paul Okonkwo – "
12. Professor John Agbenin – "
13. Professor Martin Aghaji – "
15. Professor Olukayode Adebowale – Representative, Physical Sciences
16. Professor Olusegun Oke – "
17. Professor Domingo Okorie – "
18. Professor Babajide Alo – "
19. Professor Oyewale Tomori – Immediate Past President
The Nigerian Academy of Science (NAS) was established in 1977. The Academy is the foremost independent scientific body in Nigeria dedicated to the development and advancement of science, technology, and innovation in Nigeria and brings scientific knowledge to positively guide policies/strategic direction of the country.