The 14th Biennial Meeting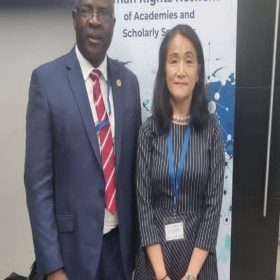 ---
The Nigerian Academy of Science was represented at the International Human Rights Network (IHRN) of Academies and Scholarly Societies 14 th Biennial Meeting held on the 6th and 7th of June 2023 at the Menlyn Maine, Pretoria, South Africa. The meeting themed 'The Role of National
Academies and Universities in Promoting Human Rights and Enhancing Equality' was organized by IHRN in collaboration with the Academy of Science of South Africa (ASSAf) to address the
intersection of science and human rights.
The Academy's treasurer, Professor Oluwole Familoni FAS who represented the Academy gave an overview about the Academy and its activities. He explored pertinent themes related to science and
human rights, such as sustainable development. The meeting fostered discussions on how academies can contribute further to promoting and safeguarding human rights. As part of the meeting, Professor Oluwole Familoni and the Nigerian Academy of Science received an invitation to join IHRN, further solidifying their commitment to promoting and protecting human rights through scientific and academic means.