NAS inducts Fellows
NAS inducts Fellows
The Nigerian Academy of Science inducted nine (9) distinguished scientists as Fellows of the Nigerian Academy of Science on Thursday, 11th of May, 2017 in Abuja.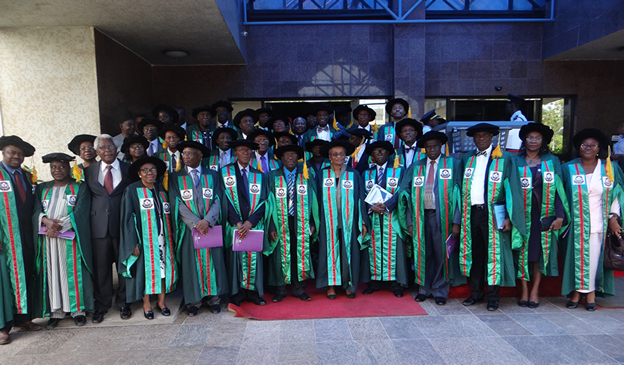 The newly inducted Fellows are:
1. Professor Effiom .E. Antia FAS –  the first Professor of Oceanography in the Nigerian University System, specializing in geological and physical oceanography. Prof Antia's research versatility, as evidenced by his over 200 oral and technical presentations, led to his nomination by the International Council for Science Union as a pioneer member of its Consortium on Hazards and Disaster in Africa in 2015. Prof. Antia is a leading advocate of integrated marine sciences education at tertiary level in Nigeria.
2. Professor Joseph A. Balogun FAS is a tenured Distinguished University Professor in the Department of Health Studies at Chicago State University (CSU). He earned his Master's and Ph.D. degrees from the University of Pittsburgh. In 2008, he was honored by the CSU Board of Trustees with the
Distinguished University Professor award; only the 4th recipient in the university's 150-year history. Professor Balogun served as Dean for the College of Health Sciences at CSU for 13 years (1999- 2013). He worked for 6 years as Chair and Associate Dean for Student Academic Affairs at SUNY (1993-1999); and served as Consultant Physiotherapist and Vice-Dean of the Faculty of Health Sciences at OAU (1986-1991).
3. Professor Charles O. Esimone FAS graduated from St. Joseph's College Sasse, Cameroon in 1987 and with B. Pharm, M. Pharm and PhD from the University of Nigeria in 1995, 1998 and 2002 respectively. He is a professor of Biopharmaceutics and Pharmaceutical Microbiology in the Faculty of Pharmaceutical Sciences, Nnamdi Azikiwe University, where he served as pioneer Dean from 2009-2014. He became a professor at the age of 37, emerging as UNIZIK's first professor of Pharmacy, as well as the first professor of Pharmaceutical Microbiology in Southeastern Nigeria. Professor Esimone is currently the Deputy Vice- Chancellor (Academic) at the University of Nigeria, Nsukka.
4. Professor Karniyus S. Gamaniel FAS is a Pharmacist, a Professor of Pharmacology and Founding Dean, Faculty of Pharmacy, University of Maiduguri. He has made particular achievements in the research and development of phytomedicines. Professor Gamaniel is the audit person and Scientific Advisor on the MacArthur Foundation, Scientific Equipment project for 15 African Universities. He is a well known leading international authority in ethical drug development and good laboratory practice; and is an active member of several professional learned society and community organizations.
5. Professor Oluwatoyin T. Ogundipe FAS is a Professor of Botany at the University of Lagos. He was an Adjunct Professor to the Department of Biology, Central Michigan University, Michigan. He is currently the Deputy Vice Chancellor (Academics & Research) at the University of Lagos and the current President of the Botanical Society of Nigeria.
6. Professor Folasade T. Ogunsola FAS obtained an MB.CHB from the University of Ife, and MSc. with distinction in medical microbiology from the University of Wales, Cardiff. She is a Fellow of both the National Postgraduate Medical College and West African College of Physicians and is the first female Provost of the College of Medicine, University of Lagos. More recently, she was the infection control lead for the Ebola outbreak in Nigeria.
Professor Ogunsola has won many grants nationally and internationally through which she has contributed to both human capacity and research infrastructure, the most recent being a $3.2million NIH Grant, BRAINS (Building Research And Innovation in Nigeria's Science), to build research capacity at the College of Medicine.
7. Professor Emiola O. Olapade-Olaopa FAS is an accomplished scientist who has undertaken extensive research activities in the basic clinical and epidemiological aspects of urological diseases and in medical education. He designed and patented a urology training mannequin which has won two international prizes, and he also devised an endoscopic technique for traumatic posterior urethral disruption. Professor Olapade-Olaopa is the current president of the Pan-African Urological Surgeons Association and the Executive Secretary of the Association of Medical Schools of Africa.
He is a member of several technical committees of the WHO, and is also the Director of the internationally accredited PIUTA Ibadan Center for urological training.
8.Professor Martins O. Olorunfemi FAS received a B.Sc. Applied Geophysics (First Class Honours) from the University of Ife (now Obafemi Awolowo University) Ile Ife, in 1976, M.Sc. and Ph.D. in Applied Geophysics from the University of Birmingham, England, in 1979 and 198l respectively. He joined the Department of Geology, Obafemi Awolowo University in 1982, as Lecturer Grade II and became a Professor of Applied Geophysics in 1996. Professor Olorunfemi is a recipient of several awards and distinctions including the Federal Government Scholarship award, Faculty Prize Winner and Commonwealth Scholarship Award. He is a Fellow, Nigerian Association of Hydrogeologists.
9. Professor Mufutau B. Oyeneyin FAS is a Professor of Petroleum Engineering at Robert Gordon University with a recognised expertise in Well Engineering, Sand Management, and Multiphase Flow Assurance,  the areas of which he has published a book , over 90 technical papers, and three patents. He is the President of the Mining Institute of Scotland; Visiting Professor at Afe Babalola University and Managing Director of i-Flow Energy Ltd an oilfield asset and technology development and capacity building company with Africa as target market. He is the founder and Chairman of the Joint Industry Sand Management Network. Professor Oyeneyin is a COREN Registered Engineer, and Chartered Engineer(CEng).