NAS Visits TETFUND 'Special COVID-19 Research Grant' Recipients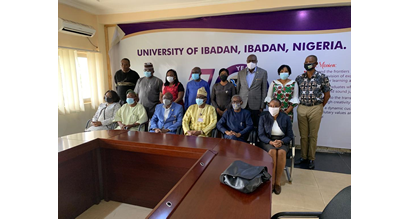 In line with its research funding mandate, the Tertiary Education Trust Fund (TETFund),
launched the Special COVID-19 research grant, commissioning six research projects aimed at providing critical answers for addressing the coronavirus pandemic in Nigeria. Given the Academy's role to bring evidence to bear on policies and strategies, the Nigerian Academy of Science was tasked by TETFund to work with the six research teams in ensuring an integrated national approach for ensuring that outputs of the research projects inform Nigeria's policy response.   There are five of this research sites. They are: Centre for Advance Medical Research and Training (CAMRET), Usman Danfodio University, Sokoto;  African Centre of Excellence in Phytomedicine Research and Development (ACEPRD), University of Jos; Centre for Drug Discovery, Development and Production (CDDDP), Faculty of Pharmacy, University of Ibadan; National Agency for Food and Drug Administration and Control (NAFDAC); and Nnamdi Azikiwe University, Awka, Enugu.
Some Fellows of the Academy which includes Professor Oyewale Tomori FAS (Chairman),
Professor Iruka Okeke FAS, Professor Karniyus Gamaniel FAS, Professor Patience Osadebe FAS, Professor John Idoko FAS, and Professor Dennis Agbonlahor FAS  are members of  a committee set up to drive this initiative.
Between July and September, members of this committee conducted visits to these research sites.
During these visits, the research teams discussed the progress on their work with the visiting committee members, as well as the possible policy implications of their research findings.