NAS holds fourth webinar in its COVID-19 Webinar Series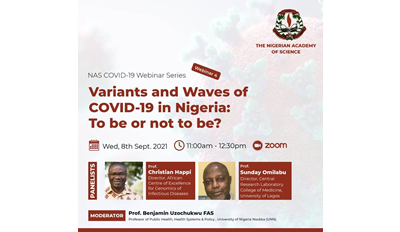 The Academy's fourth webinar in the NAS coronavirus disease (COVID-19) webinar series was held on Wednesday, 8th of September, 2021 with the theme, 'Variants and Waves of COVID-19 in Nigeria: To be or not to be?'. This webinar discussed the basics of viral mutations, their significance, COVID-19 variants, the future of the pandemic, and the implications for Nigeria's public health response.
The NAS President, Professor Ekanem Braide FAS, who gave the opening remarks described the webinar theme as 'apt' at the present time when COVID-19 variants are posing challenges to public health response strategies.
Panelists at the webinar were:-
Professor Christian Happi (Director, World Bank-African Centre of Excellence for Genomics and Infectious Diseases), who spoke on the topic 'Tracking COVID-19 Variants in Nigeria'. He discussed the various COVID-19 variants – current types, testing techniques, and detection of variants. He also spoke about how the genomics tracking work at his Centre infomed policymaking for covid containment in Nigeria.
Professor Sunday Omilabu (Director, Central Research Laboratory, College of Medicine, University of Lagos) who in his presentation titled 'Managing Variant-driven Waves of COVID-19' discussed public health surveillance and response measures to manage the waves of COVID-19 in Nigeria. He explained that the potential impact of existing and future SARSCoV2 mutations creates a need for sustained genomic surveillance, and elaborate vaccine efficacy studies.
Professor Benjamin Uzochukwu FAS (Professor of Public Health, Health Systems & Policy) moderated the event, while the Academy's Public Affairs Secretary, Professor Musbau Akanji FAS gave a vote of thanks at the end of the webinar.
Participants included scientists from universities and research centers, staff of relevant government ministries, departments, and agencies (MDAs), health workers, representatives from the private sector, representatives of non-governmental organizations (NGOs), and the media. In addition, attendees included participants from South Africa, Morocco, Zimbabwe, Botswana, the United States, and Benin Republic.