Strengthening Research Capacity in Nigeria Project: Mentorship Programme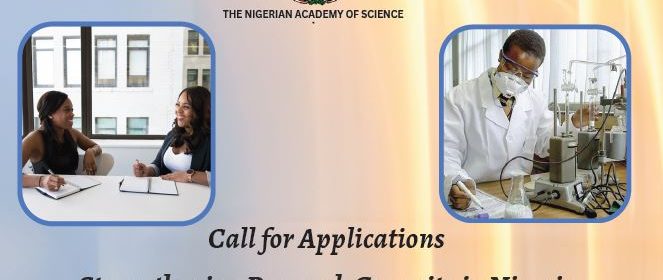 Call for Applications
The Nigerian Academy of Science (NAS) is implementing a project aimed at enhancing research
capacity in Nigeria, as well as facilitating an enabling environment for research and researchers to
thrive. As part of this project, selected early career researchers (ECRs) would be paired with a mentor,
and engaged in a 5-month (1st June – 31st October, 2023) research mentorship programme.
The NAS therefore invites applications from interested mentors and mentees. Selected candidates must
be able to commit 2-4 hours per week to the mentorship program. They must also commit to attending
a stakeholders' workshop, and mentor-mentee roundtable/orientation workshop to hold in Abuja on
the 15th-17th May, 2023 (costs related to participation will be covered by the project). Women and
persons living with disabilities are particularly encouraged to apply.
Mentees: Early career researchers (ECRs) in higher academic institutions or research institutes, who
are actively pursuing a career in Science, Technology, Engineering, and Mathematics (STEM) fields.
To be eligible for this programme, prospective mentees must:
be of Nigerian citizenship, and resident in Nigeria
have a doctoral degree received not more than 5 years ago, or currently be a PhD student
be between the ages of 25 and 40
have a proposal for a research project in any of the STEM fields. Research topics must
demonstrate policy-relevant implications (projects may be already ongoing, or about to
commence)
Mentors: Established scientists who are able to provide mentorship on mentees' research, and career
goals. Mentors would be selected based on:
motivation for being a mentor
previous mentoring experience
willingness to share knowledge and skills that would support early career researchers in
achieving career advancement
The call for applications will be open from 23rd March, 2023 to 21st April, 2023. The application
forms are available via the links below:
Mentors: https://bit.ly/NAS-RMP-Mentor
Mentees: https://bit.ly/NAS-RMP-Mentee
Shortlisted candidates for the mentorship will be contacted by early May.
Deadline for applications: 21st April, 2023. Late submissions will not be considered.
For further information, please contact the NAS Secretariat using bonyema@nas.org.ng or
08089622442. Please do not email any application. Only applications received via the online forms
will be assessed.
This project is proudly supported by the Research and Innovation Systems for Africa (RISA) Fund.