NATIONAL YOUNG RESEARCHERS' PRIZES
CALL FOR APPLICATIONS
The Nigerian Young Academy (NYA) call for applications to her National Young Researcher's Prizes in Linguistics, Microbiology, Mathematical Sciences, Chemical and Health Sciences (please see box to the right for the list of Prizes). These prizes were established by the NYA, through the kind donations of distinguished Nigerian academics with a view to promoting original research in there levant fields, especially among young researchers (below 45 years) in Nigeria. The prizes were designed to recognize the scientific achievements of outstanding young researchers working in respective fields and living in Nigeria; and encourage them to continue to strive for excellence in their research.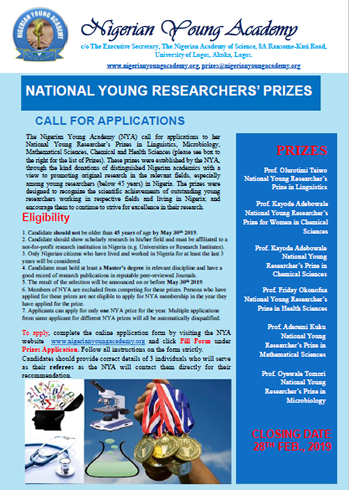 Eligibility
1. Candidate should notbe older than 45 yearsof age by May 30th2019.
1. Candidate should notbe older than 45 yearsof age by May 30th2019.
2. Candidate should show scholarly research in his/her field and must be affiliated to a not-for-profit research institution in Nigeria (e.g. Universities or Research Institutes).
3. Only Nigerian citizens who have lived and worked in Nigeria for at least the last 3 years will be considered.
4. Candidates must hold at least aMaster's degreein relevant discipline and have a good record of research publications in reputable peer-reviewed Journals.
5. The result of the selection will be announced on or before May 30th 2019.
6. Members of NYA are excluded from competing for these prizes. Persons who have applied for these prizes are not eligible to apply for NYA membership in the year they have applied for the prize.
7. Applicants can apply for only oneNYA prize for the year. Multiple applications from same applicant for different NYA prizes will all be automatically disqualified.
To apply, complete the online application form by visiting the NYA we bsite www.nigerianyoungacademy.org and click Fill Formunder Prizes Application. Follow allinstructions on the formstrictly.
Candidates should provide correct details of 3 individuals who will serve as their referees as the NYA will contact them directly for their recommendation.  CLOSING DATE: 28TH FEB. , 2019